2 April 2019
After NORDET and SUROIT it is the turn of the JEUNE  France which ensures the rotations between Saint-Pierre and Langlade to make its obligatory annual refit.
The ship climbed this morning, Tuesday, April 2, on the Saint-Pierre slipway.
Langlade rotations is scheduled for the end of April.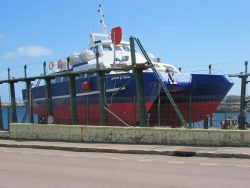 Category : SPM Ferries