Ticket modification & reimbursement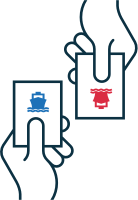 Ticket modification
SPM Ferries advises its users that since May, travel changes are paying off. A purchased ticket is valid for one year, however any change is subject to a 25% deduction from the ticket price. The user can make as many changes as he wants in the validity period of his ticket. For users who have purchased an open ticket, the initial booking on a trip is free, the following changes are not free. For users who own a subscription card, travel changes are also subject to a flat fee per trip. Buying an open ticket is an opportunity when you do not know your return dates however, this ticket does not guarantee a place on the ship without reservation on the desired route beforehand. The modifications and the registration of the "Open" tickets are made at the counters of our ticket offices in the various ports served, by mail, or telephone . No holdback will be applied if the change request results from a trip cancellation or postponement due to SPM Ferries. The SPM Ferries team is at your disposal for any further inquiries.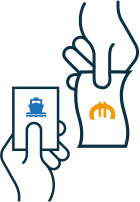 Ticket reimbursement
The policy for tourist development of the Territorial Collectivity as well as the increasing sales of tickets online have bought SPM ferries to evolve its commercial regulation regarding refunds. Today if you wish, the refund is possible without justification but is supervised in order to avoid multiple bookings without crossing. In that way the cancellation policy of tickets are the following: A round-trip ticket is refundable if no trip has been used.
Until the eve of departure, the holdback is 25% of the purchase price.
The day of departure, the holdback is 50%;
The day after departure, there is no refund but the ticket is valid for 1 year.
No holdback will be applied if the request for refund results from a modification or cancellation of SPM Ferries. However it is necessary to carry out your request within 48 hours after the scheduled departure Time. A pass card is refundable if no crossing has been used during the period of validity. In case of loss the card, the reprinting of the card is possible but subject to payment to the applicable rates. Before proceeding to your booking and or to complete your purchase, do not hesitate to contact SPM Ferries if you need further information.